The Izar Houses, a pair of two-storey volumes by Taller ADG
Situated on steep wooded parcels overlooking from Mexico Valle De Bravo Lake, Taller ADG's Izar Homes form a pair of two-story volumes that seem to emerge from their lush surroundings. A green roof, local stone and a facade latticework of specially treated wooden slats contribute to the Houses' fully integrated into the landscape, bodies of water and vegetation welcoming the owners in the main entrance, evoking continuity with the natural environment.
Images © Rafael Gamo, Onnis Luque
Larger ADG (see more here) collaborated with interior designer Micaela de Bernardi to compose the interior spaces of the two Izar houses. The private spaces are on the lower level, spread over 600 m², while the more public social spaces are held on the upper level and extend over 400 m². A skylight made of local stone and vegetation connects the two floors. Users access these spaces through a hall that distributes the main living room, the service kitchen and the staircase leading to the lower floors.
The main living area on the upper floor is generous in size, with a black steel fireplace which contrasts with the oak floors, walls and ceilings. Adjacent is a special event dining room and kitchen and a covered patio, with space for open secondary living and dining areas with a bar and grill. The layout is completed by an open terrace with a swimming pool, a service area with a kitchen and a storage room. All of these spaces frame panoramic views of the woods and the lake.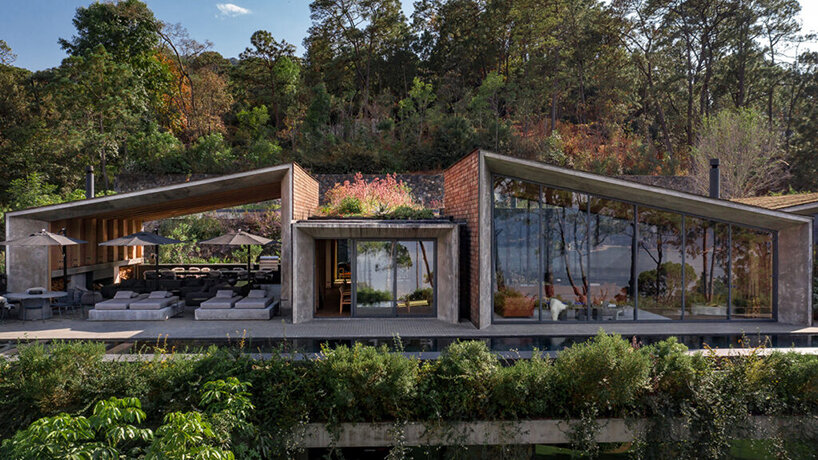 On the lower level, owners first access a semi-social space which includes a hall, family room and play area, followed by a hallway surrounding the skylight and leading to a gym and bedrooms. The master bedroom contains a bathroom, a dressing room and a private studio. During this time, the architects fitted out the floor with additional rooms containing an attic, bathrooms and dressing rooms. Finally, the northern part houses a common social space that is completely independent of the two houses. This space, surrounded by a forest, houses swimming pools, a fire pit, a spa, grills, pizza ovens, gymnasiums and changing rooms.
blending in with the surrounding Mexican forest landscape
According to Taller ADG, one of the biggest challenges of the project was to meet all the needs listed in the client's architectural program while dealing with a steep and hilly site. This, in turn, led to two additional difficulties. The first was to achieve good lighting in each space, which the architects solved by creating skylights that crossed the two floors, taking full advantage of natural light and achieving excellent energy efficiency, exceeding the ideal objective of 150 lux per day.
The second challenge was to properly integrate the house into its natural environment. This was achieved through a functional design, implementing roof gardens, using locally sourced stone for materials and finishes, and covering the latticework of the facade with specially treated wooden slats. Combined, these interventions ensure that the complex exists in perfect harmony with its forest context.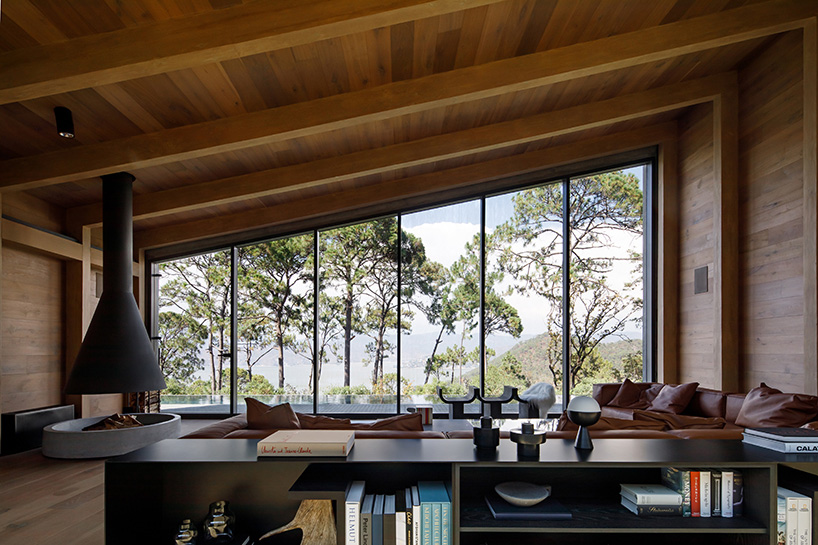 "We have taken advantage of the terrain conditions (with all its nooks and crannies) by creating wetlands and forest recreation areas, promoting local species and strengthening the ecosystem, which leads to interspecific competition and coexistence. healthier. This is true for all life forms in the region, from mushrooms to the tallest trees. In addition, we have implemented each area desired by the client in a very subtle and non-invasive way, and each space we have designed offers a view of Lake Valle de Bravo. As a result, biological corridors have been generated and paths suitable for play, an edible forest, water bodies and children's play areas", shares Taller ADG.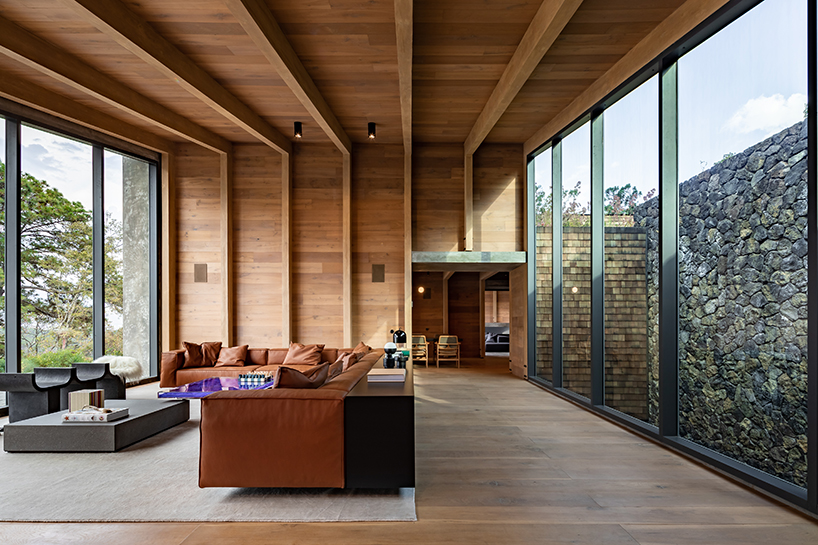 Constructionally, the houses are constructed using poured concrete footings, concrete retaining walls, and intermediate brick walls, confined with chains and steel-reinforced joints on the first floor. The upper floor is made of treated pine wood frames, fixed on structural plates and anchor screws, completely covered with wood and Canadian wood shingles, duly protected and soundproofed. The roof, finally, is topped with pinewood, covered with engineered wood.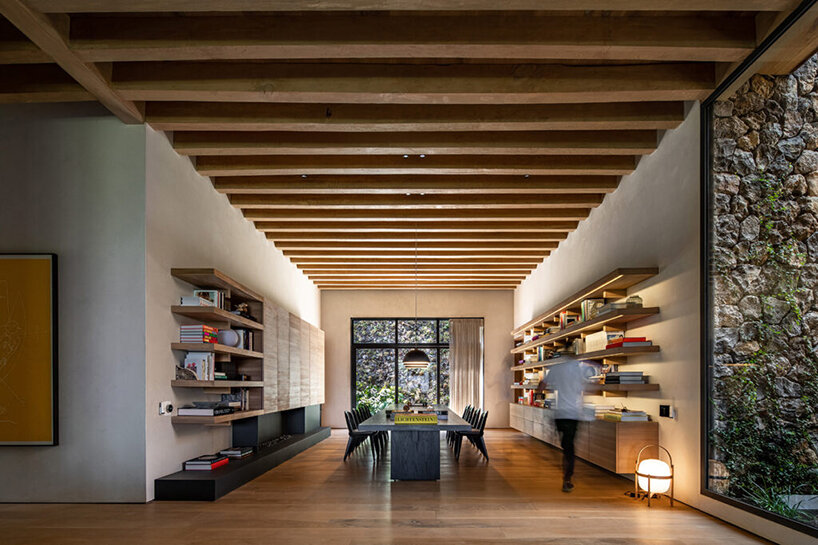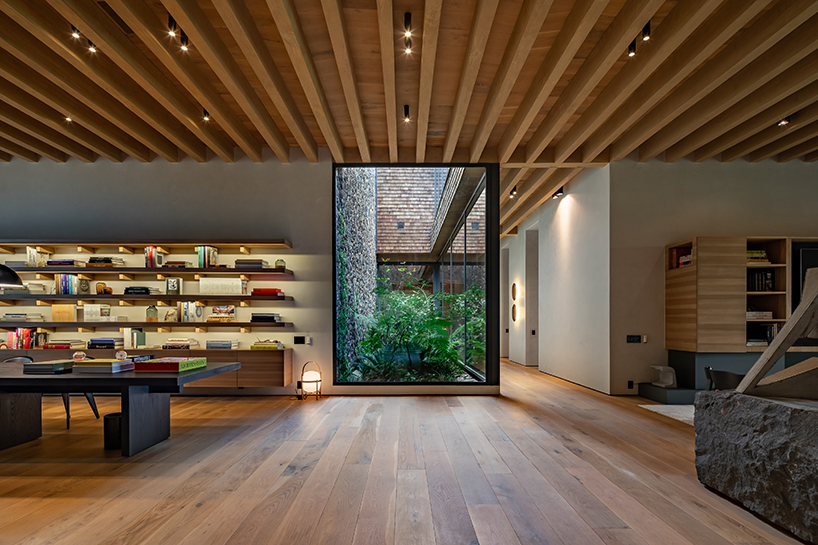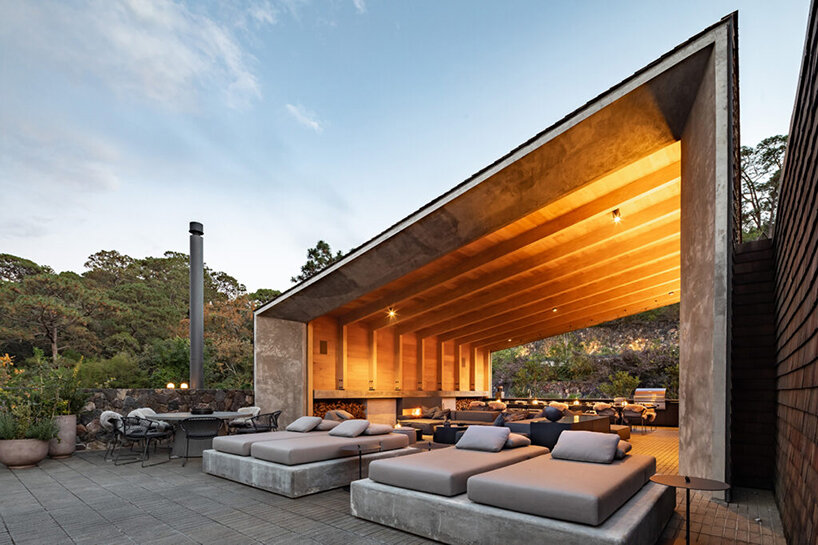 project info:
Name: Izar houses
Location: Bravo Valley, Mexico
Year of completion: 2019
Architecture: ADG taller
Furniture + interiors: Micaela de Bernardi
Photography: Rafael Gamo, Onnis Luque
designboom received this project from our DIY Submissions feature, where we invite our readers to submit their own work for publication. see more project submissions from our readers here.
edited by: léa zeitoun | design boom